October 26th, 2013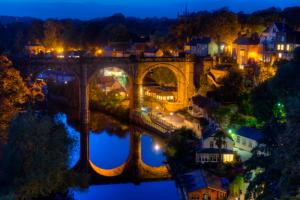 I enjoy night time photography. There are a lot of hidden colors out there. This image was a result of about 2 hours of work just to get the image into the camera. It all started when I noticed a nice subtle cloud deck. I thought, this could be a magnificent sunset.

Pre-planning is important if you want to try to achieve an optimal image. I keep a few key points to photograph in the queue so that I only need to wait for the right weather conditions. I had mapped this setting out a few weeks ago. I note where I need to be, to include parking, etc. I packed up the gear and drove a really long way to get to this setting to make it just in time. Pre-planning gets you close, but since i had never been here before, I wanted to have a look around; check vantage points, etc. Finally I was able to camp out my spot.

I got all the settings established and then meditated until the sun was ready. It was going to be spectacular as there were just enough clouds to provide a wonderful magenta hue backdrop to this scene.

Funny thing with Yorkshire weather is that it can change quickly. About 20 minutes before the clouds were going to light up, another set of clouds rolled in and parked in front of the sun; blocking all hopes of a true sunset. It became a little blah. I took a few shots and then waited some for that post sunset magic light. Still nothing really going. I moved around the grounds really just to buy time until the street lamps came on.

At about 45 minutes after sunset, this image stated to appear. Most night work must be HDR and this one started with a 2 minute exposure. There were several attempts made at this final shot. Some were enhanced by the moving train or cars with headlights on the roads or photographs at ground level using a flash to take the shot.

Finally it all came together. Once the last shot was taken, I bagged my gear and set off for the long hike back to the car. It was a chilly night and I had not planned to be out this late, but it was worth it.
Enjoy.
Dennis.
October 19th, 2013
Hi.
We traveled to Seahouse UK, which is right along the coast. Originally the area was suppose to be part of Sir John Clayton's network of lighthouses, however the idea was too early for it's time in the 1600s. There is a little island a little off shore that has this historic lighthouse which was built in the very early 1800s.

The island and the area around it is very treacherous with jagged rocks protruding the surface. Within all of this however is a habitat for grey seals and puffins. In the late fall the seal congregate to begin their mating season and weathering the winter of the North Sea. In early spring the new pups will line she shores and fill the waters. We will have more images next spring as we visit once again.

Please enjoy and comment.
Dennis.
October 5th, 2013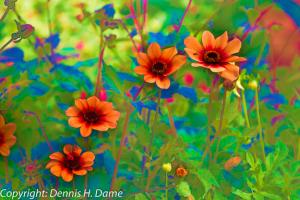 We recently visited Beningbrough Hall and Gardens. This is part of the UK National Trust and is a great place to visit for the day. Even in October there is plenty of flowers still blooming.

I took this photograph and was able to transform it into a surreal look that I had envisioned. I hope you enjoy this. Please let me know what you think.

Enjoy.
Dennis.